The 1670 collection celebrates the rich life and adventures of J. Herbin, an enterprising French sailor of the 17th century. He made a number of voyages to India, collecting ingredients and formulas for his sealing wax and inks. He began making pen inks in shop in Paris in 1700–beginning with the "Ink of Ships" and the "Jewel of Inks."


Rouge Hematite
Today, Herbin inks are widely used and internationally renowned. To celebrate the 340th Anniversary of our founding, we are introducing the "1670" ink especially made for this event.
With a dark red color and earthy tone, it is a reminder of the historic color of the Herbin logo and the sealing wax used by the members of the royal courts.
The sealing wax on the bottle is reminiscent of the Herbin wax used for the "grand cru" wines of France.
The design on the box represents the life of J. Herbin, a sailor. The ship, anchor and palm tree represent navigation and discovery. The crown is a reference to the red sealing wax color used in the royal courts of Europe.
The blue ink recalls the sea voyages of M. Herbin, a sailor. From his many journeys to India he brought back to Paris formulas for manufacturing sealing wax. His special lacquer formula improved the quality of the seals in adhesion and neatness, helping him to become famous throughout the kingdom.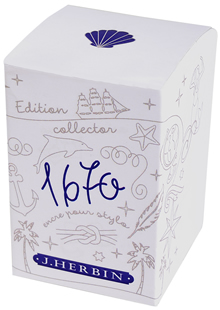 Stormy Grey
Stormy seas are the inspiration for J. Herbin's newest 1670 ink, "Stormy Grey." Its color is a deep coal grey (anthracite) with flecks of gold. On his many voyages, J. Herbin encountered dark and wild oceans. The fine golden flecks in the ink are meant to invoke both strikes of lightening across the water, and also its dark and mysterious depths.