Calligraphy & Specialty Inks

Herbin's calligraphy and specialty inks include rich metallics, shimmering pearlescents, and inks steeped in history. These inks are not for fountain pens. They are best suited for steel nibs, glass or quill pens, calames and brushes.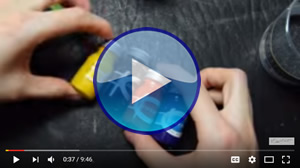 Review of Herbin Calligraphy Inks by
Connie Chen, Calligrapher & Master Penman
---
India Ink ("Encre De Chine")
Also called "China Ink." This ink's primary component is the lacquer found in the Punjab region of India. Herbin began production of India ink in 1829.

Shellac type lacquer dries to a nice shine
Great permanency of color
Indelible and solvent resistant
Fast drying time
Available in black /09 only
Ref H112/09 – 50 mL bottle

---
Pigmented Ink ("Encre Pigmentee")
Exquisitely rich opaque inks with high pigment content.

Decorative ink, best suited for wide nibs, brushes and calames
High pigment content; gold and silver inks contain actual metallic pigments (bottle needs to be shaken vigorously and frequently while using)
Jewel-like ink in four brilliant colors: opaque white /01, gold /04, silver /05, copper /06
Very dramatic on dark-colored paper
Ref. H135/ – 30 mL bottle
Ref. H120/04 – Sampling of 5 10 mL bottles
---
Calligraphy Ink ("Encre De Calligraphie")
This ink contains natural resins allowing the ink to adhere to the metal nib, but flow smoothly and consistently.
Totally fade-proof
Rich opacity
Available in 8 colors: black /09; blue /10; red /20; green /30; brown /40; yellow /50; violet /70
Ref. H114 – 50 mL
Ref. H120/03 – Sampling of five 10 mL bottles
---