Fountain Pen Inks

Herbin is the oldest name in pen inks in the world. "The Jewel of Inks" was created in Paris in 1700.
Herbin uses all natural dyes in their fountain pen inks. This natural composition is reflected in the very neutral pH of the inks.
FOUNTAIN PEN INKS
The Jewel of Inks ("La Perle des Encres")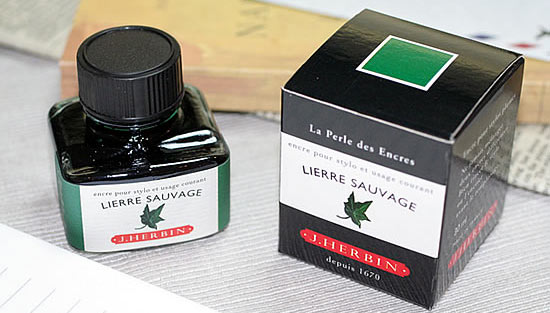 Available in these 35 colors: (download printable PDF version of these colors)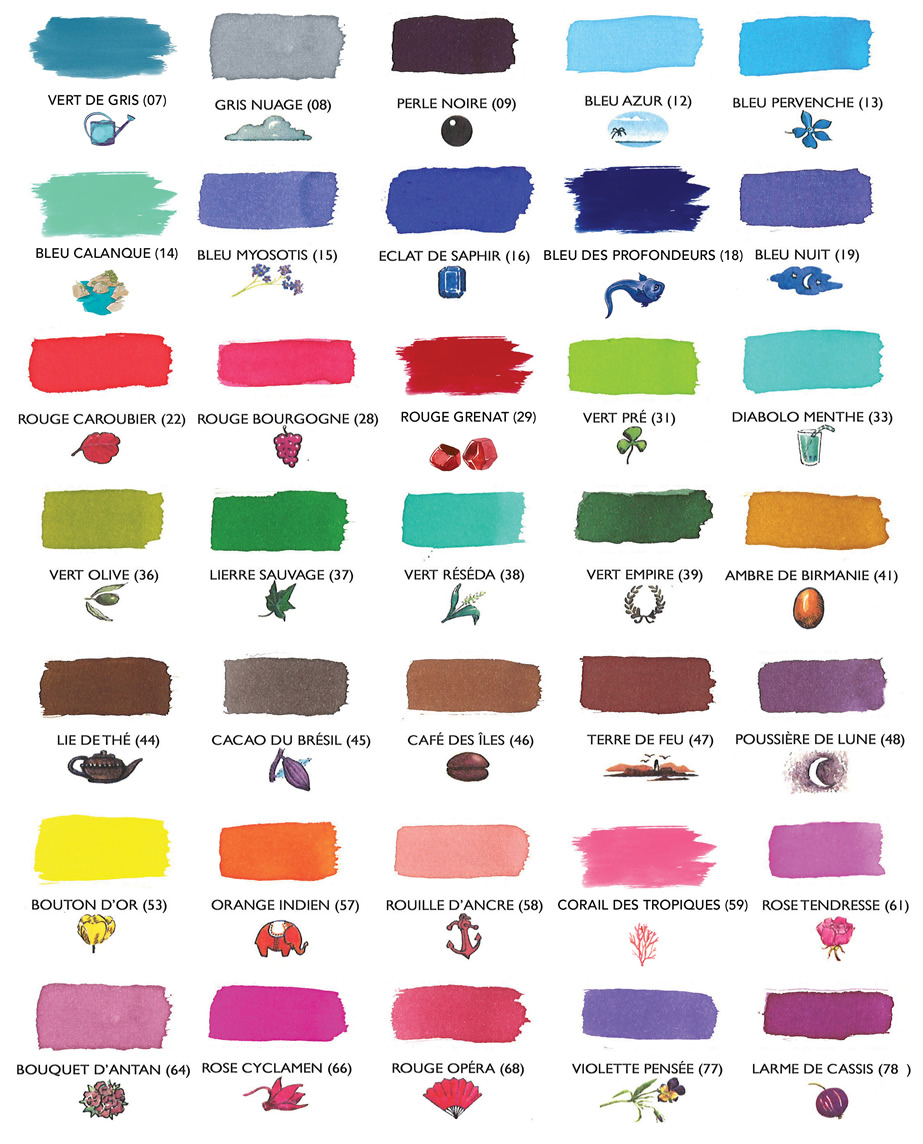 35 beautiful colors!
Non toxic and pH neutral
Water based
Flows smoothly and is fast drying
All natural dyes

Cartridges
Universal snap-in cartridges. Six cartridges neatly and securely packed in a cylindrical metal tin. Fits most fountain pens and rollerballs, except Waterman, Sheaffer, Parker, Lamy, A.T. Cross, Pilot/Namiki, Sailor, Platinum, Aurora, Fultz and Nakaya. Available in 20 colors.
---
SCENTED FOUNTAIN PEN INKS
These exquisitely romantic inks are perfect for fountain pens since they are naturally scented and do not contain pigments.
Herbin scented inks are made from floral water (hydrosols) of rose, orange, lavender, apple and violets. The hydrosols used by Herbin come from Grasse, France, a Provencal town long associated with the perfume industry, and famous for its floral scents.
Fashioned with great care, scented inks are inspired by a tradition that began in Italy in the 19th century. Herbin and other manufacturers used to collect different scents from the perfume industry and add them to their inks.
Known as "Les Subtiles" (The Subtle), each ink matches fragrance and color: bleu/parfum lavande/10; amber/parfum orange/41; brown/coffee/46; rouge/parfum rose/68; and violet/parfum violette/77
Ref. H137 – 30 ml bottle
Ref. H187/00 – Scented Inks Gift Set - Five 10ml bottles of scented inks
---
Blotting Sheet Pads
10 sheets per pad
3 ¼ x 1 7/8"
White sheets – Ref H255/00
Pink sheets – Ref H255/60
BOTTLED FOUNTAIN PEN INKS
Without overload or artifice with a sober and elegant brightness, Jacques Herbin inks (Made in France) echo the shades of watercolors. They are the accomplices of any amateur or connoisseur of the arts of pen and graphic arts, artists, and travelers.
50ml bottles
10 colors
Non-toxic, pH neutral
Water based, all natural dyes, flows smoothly
---
BOTTLED SCENTED FOUNTAIN PEN INKS
Scented inks from the Jacques Herbin collection offers a new expressive dimension to writing, correspondence, or calligraphy. They combine deep colors and an evocative scent of memory and travel. Scented inks develop subtle hints of honey or lime, with musky or floral inflections.
50ml bottles
Scented
Non-toxic, pH neutral
Water based, all natural dyes, flows smoothly
---
FOUNTAIN PEN CARTRIDGES
1.35 ml international size cartridges
Fits most standard and long pens
10 colors
Seven cartridges per pack
Non-toxic, pH neutral
Water based, all natural dyes, flows smoothly